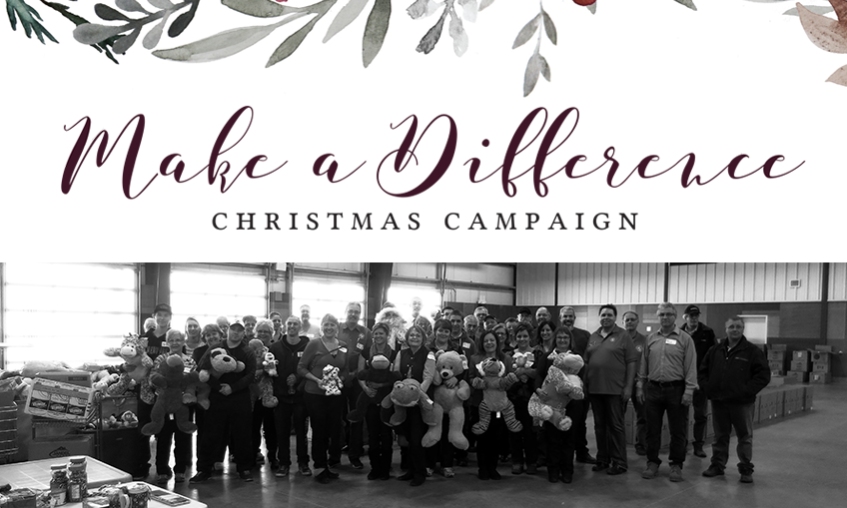 This year, our Make a Difference campaign started off with a Cocktail Reception and Silent Auction hosted by Glowing Embers RV, which raised $10,600. We'd like to extend another heartfelt thank you to everyone who donated items for the auction and attended the event.
After the reception came the distribution of posters and boxes all over the Acheson Industrial Area and beyond to collect donations of toys and non-perishable food. A big thank you goes out to Monarch Exterior & Roofing Centre for their generous donation that helped purchase all of the boxes we needed for the campaign.
The efforts to raise as much as possible began. Over 100 Acheson companies ran competitions, challenges, bake sales, sold handcrafted items and many other fantastic events to bring in donations. It never ceases to amaze us the creativity of our community when it comes to fundraising!
On December 11, two teams with each a Santa, Mrs. Claus, our ever loyal elves and the fleet of drivers from Strongco Corporation, Myshak Sales & Rentals, JAPA Equipment and Willy's Trucking, collected donations from our Santa Run and the Acheson Fire Station. In total, we were able to deliver 8000 lbs of food/toys/clothes and $16600 in monetary donations to the Kinsmen and Kinette's.
If you were one of the businesses that we visited along our Santa Run and would like to see your photo with Santa and Mrs. Claus, click here to view the album.
A huge thank you, as well to all of the companies that dropped donations off to the Acheson Fire Station and to the Fire Fighters and staff who happily participated in decorating the Station and collecting the donations!
Thank you to every single person who participated in any way for all your hard work and generosity throughout the last month. Because of your dedication, the Acheson community was able to help provide over a 1000 Parkland County families with food and gifts this holiday season. Way to go Acheson!