On October 25, 2022 Parkland County Council approved a new Transit Service Delivery Model for 2023.
Changes you will see include:
Cancelling Route 561 Commuter Bus this includes cancelling stopping at Husky/Esso in Zone 1.
Cancelling the Acheson Shuttle service and moving to an On Demand service.
Partnering with the City of Spruce Grove and the Town of Stony Plain to provide On Demand service that encompasses Acheson, Parkland Village, Spruce Grove and Stony Plain (85 km2 service area).
The changes are being implemented using the same budget as we currently allocate to Transit.
Saving the best for last, Council supported eliminating the Public Transportation Utility Bylaw and moving to fund transit 100% from taxation. This results in the Acheson businesses will no longer be charged the Transportation Utility Fee.
2023 Transit Service Delivery Model
Fixed Route Commuter Route Spruce Grove to Edmonton
On Demand Service – Acheson – Parkland Village - Spruce Grove – Stony Plain
On Demand Acheson – Parkland Village – Spruce Grove – Stony Plain (85 km2)
Increased service 5:00 to 9:00 am and 2:15 to 6:15 pm.
Virtual stops in all zones of Acheson (plus Spruce Grove and Stony Plain).
Commuter remains the same 5:30 am Spruce Grove to 10:00 pm Spruce Grove. (

click here to view info

)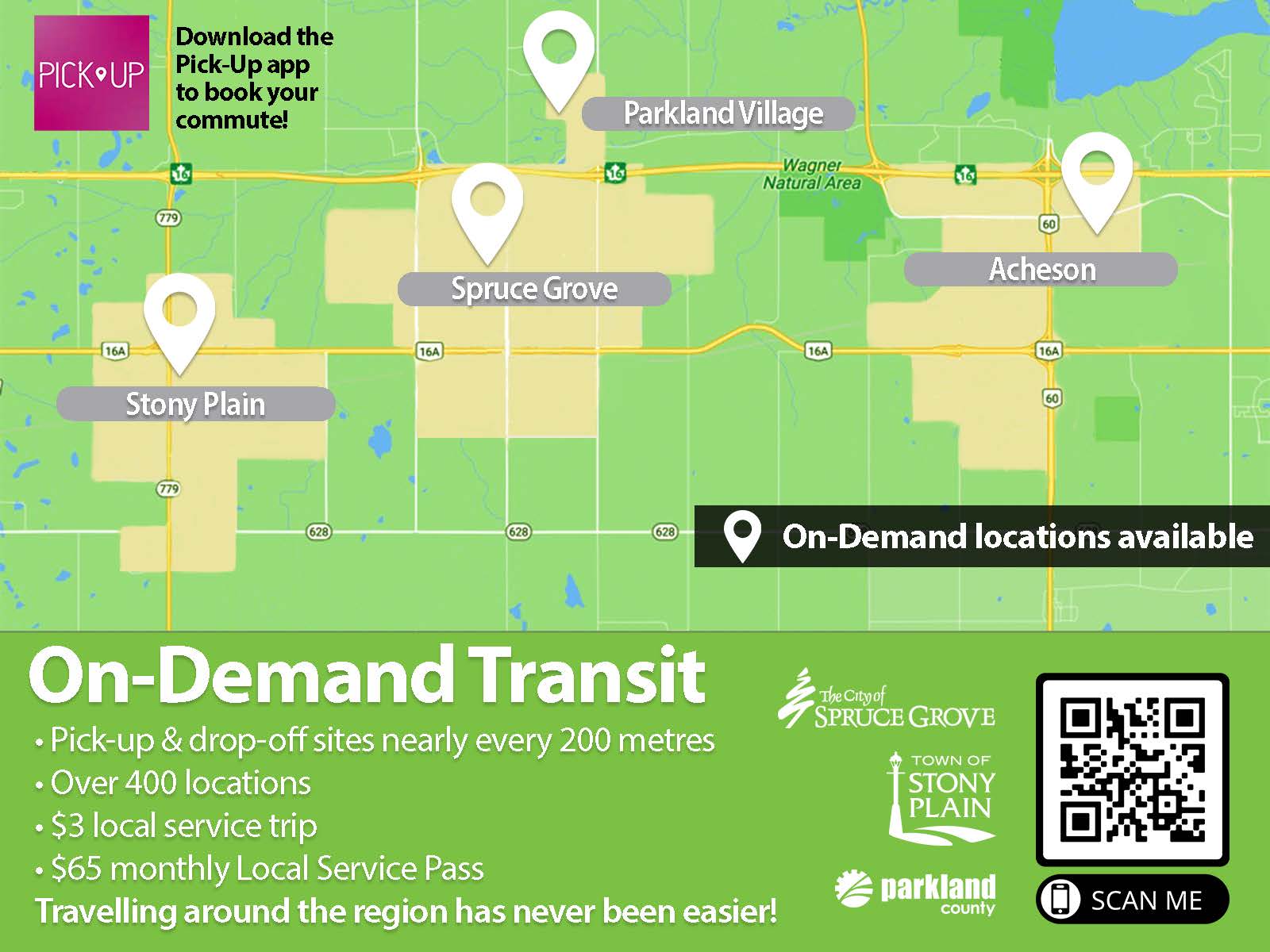 On-Demand Stop Locations in Parkland County
There are two types of on-demand pick-up/drop-off locations - marked and unmarked. Marked stops have a transit bus stop sign (blue pins). The remaining locations are unmarked (red pins) - they are "virtual" – meaning they don't have a bus stop sign.
How it works
There are three ways to book your trip
How it works
Create an account in the app or online
Enter your starting point and destination
Select your travel time
Enter the number of passengers in your group
The app will tell you where you will be picked up
Be sure arrive at your pick-up location prior to the 10-minute pick-up window
Track the bus in real-time and enjoy the ride
Book trips for right away or up to one week in advance for travel between any two bus stops in Stony Plain, Spruce Grove,
Parkland Village or Acheson.
You will be given a 10-minute pick-up window, so be sure to arrive before the beginning of the pick-up window because the
bus can't wait.
The on-demand system calculates the most efficient route based on customer needs so trips are as fast as possible.
"Pick Up" On Demand Booking App